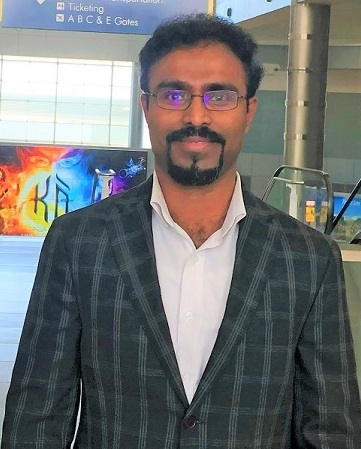 Reflections
Vinod Das, a multi-skilled Information Technology (IT) professional with 18+ years of contributions to well renowned organizations such as Bayer Corp., Merck & Co., TCS (TATA), HCL America Inc., etcetera. He holds a Master's in Engineering degree from Government College of Technology, Coimbatore – India. Since 2015, Vinod Das is a 'Change Catalyst' for Bayer Consumer Health R&D IT. He holds many professional certifications, awards and recognition to his dedication and sincerity shown towards his assignments. Vinod also is leading and providing directional leadership to BASIA (Bayer Asian Society Inclusion Alliance) team members for Whippany, NJ Chapter as part of volunteering in Bayer.
During his free time, Vinod loves to cook, play chess, dance, volunteer (serve the needy), mentor school students and personally take a long racing drive across New Jersey (NJ) highways.
Vinod enjoyed and stood out in a crowd during his Twelve (12) Years of school education in Spartan Matriculation Higher Secondary School where he lead his 'Ruby' house to many victories and held many certifications during the course of his journey.
Vinod started his professional career after completing his Bachelor's in Engineering (four [4] years) as an Automotive Engineer (Axles India Ltd [2 years]), where his KAIZEN and 5S activities improvised the throughput. Based on his Manager's career guidance and Mom's suggestion, he enrolled and completed his Master's Engineering degree [2 years]. The core success factor is that in his second semester Vinod got campus recruited in HCL [8+ Years].
"Value in a value is valued only when the value is experienced" – Vinod Das
According to Vinod, Knowledge Principle is defined as an effective Decision making through synthesizing Information (big data) and deriving business Solutions through effective Communication.
Mathematical Formula for knowledge:
Knowledge (K) = tn [D-I-S-C] n
n = number of iterations
t = constant [technology which changes on every iterative process]
D = Decision Making
I = Information (data)
S = Solutioning
C = Communication
K = Knowledge